by Dr. Phillip Palmer.
Estimated reading time: Approx. 2-3 mins.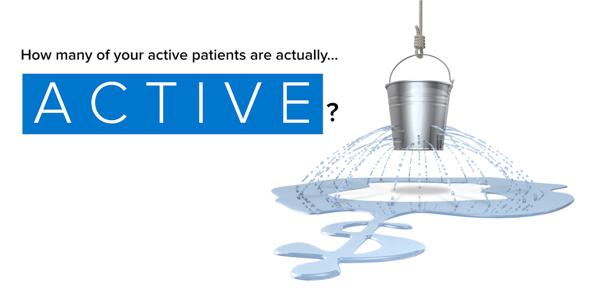 With the increasing cost of acquisition of new patients, and the constant need for marketing generally, one would think that most practices would be ensuring that at least they are keeping the patients they already have through effective recall systems.
Unfortunately, in reality, it is quite the opposite.
How do we know?
Let's look at this in further detail…
The average one-clinician practice, working 4.5 days/week has about 1350-1400 active patients (an active patient is one who has been in the practice for any reason whatsoever in the last 18 months. Whether they have been in once or 20 times, they each count as 1unique active patient).
Let's say for the purposes of this article, 1400 is an average number.
Most practices will agree that these 1400 active patients ideally should be coming in, even if for check-up and maintenance only, twice a year. This can be worth many hundreds of thousands of dollars per year to the practice, as well as improving the health of your patients.
Let us also keep in mind - there is no marketing needed to get them in. There are very little costs involved at all. So, the return on investment (ROI) if we can successfully get them returning regularly is extremely high!
What's interesting is how few dentists know how their practice rates with this basic business Key Performance Indicator.
To the dentists and practices who are aware of this number, we at Prime Practice often ask: …are you concerned about how low it is?
And those who don't know it…does not knowing the number concern you even more?!
When we survey many of our new clients, it seems that there is usually only 20-30% of that 1400 that has been into the practice in the past 6 months. Our experience is that our clients can increase that by up to 30% extra per year, until it gets to more than 75% effectiveness.
All we need are the right systems, the right communication skills from the clinicians, the right practice culture and everyone in the team behind it.
However, sometimes dentists can become complacent. They forget about the little things that need to be said and done. They stop checking their numbers. And thus, miss out on a potentially large amount of production revenue.
So, how many of your practice's active patients are in fact, actually "active"?
Make it your practice's ongoing goal to review your recall systems, or what we at Prime Practice call "Active Maintenance Systems", and start to actively build and retain your active patients. Re-establish the profitable heart of your practice...your active maintenance department.
Find out how an effective Active Maintenance system adds value for both your patients and your practice.
Discover your Hygiene / OHT Department can play an integral role at getting your patients to return your practice regularly.