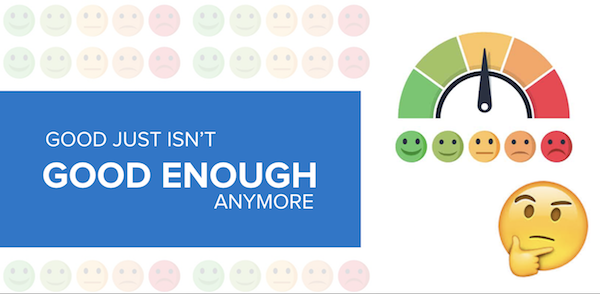 Patric Moberger, May 2018 - Think for a moment how much business has changed in the past 15 years. Since the internet has taken hold of our lives, there has been a shift in the way that we as humans expect service.
It used to be that we would wait in lines, ask for information, accept poor behaviour without complaining, and pay any price without research. All that has changed today.
Instead of just flashy ads, we as consumers and customers turn to online research before making any contact. We ask about our own social cliques and public forums to share their experience with particular businesses before making any decision.
Furthermore, ensuring that we get a smile upon walking through the door, or even receiving a box of chocolates when you check in to your hotel room isn't anything too memorable anymore – in fact, it's become a minimum expectation.
Today, for any business to stand out in the market, there must be an extra level of care that goes beyond normal service. Today, good isn't just good enough.
Consider how these businesses have changed the game:
Apple - people line up to buy the latest iPhone, iPad, iAnything. Why? Because they provide exceptional product quality with exceptional service and care. If you venture into an Apple store, you will notice how much time and attention they give to make you feel welcome and meet your needs.

Hoyts Extreme Screen / Event Gold Class - today we can easily download a movie on our laptops, and yet we are more than happy to pay for the chance to sit in nice seats, be treated to exceptional service and exciting visuals and sounds.

McGrath - this Australian estate agent has grabbed a huge share of the market by offering '6-star exceptional service' during the past 30 years. Despite their premium charges, people still frequent them because they know what they will be getting – top quality service on top of their real estate needs.
Do you notice anything that these three businesses have in common? It's the word exceptional. They find ways to stand out from the crowd and delight their clientele. Often in ways the clients and customers had never actually envisioned.
Is your practice providing just good service for your patients? Or are you delivering an unforgettable and exceptional experience that will make them raving fans to their family and friends?